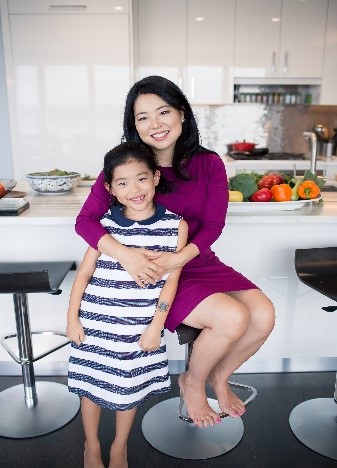 Clara is a fan of Mother Goose Club and a contributing writer for our blog. She is a mother of two daughters and lives in New York City. She is passionate about food and loves to tinker with recipes to make it easy for busy moms. Her daughter, Beatrice, is often her sous-chef in the kitchen on weekends. She believes sharing the love of cooking with children can foster joy, connection, creativity and healthy eating habits.
It's often challenging to get your kids to eat a variety of foods. One thing that has helped me is a face plate!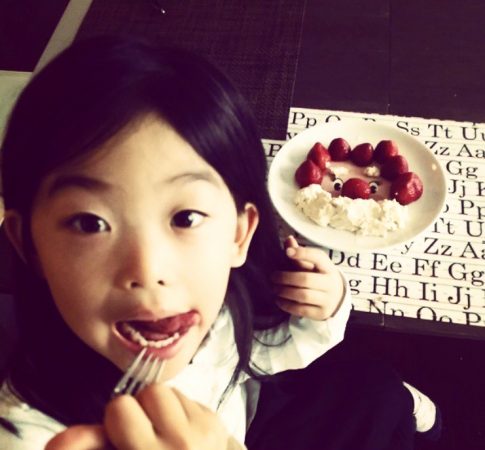 Check out the holiday plate I made with my daughter! She couldn't wait to dig into her afternoon snack and Santa Claus never looked so delicious! I used homemade vanilla maple-cream frosting for Santa's beard and eyebrows, and organic strawberries for his hat. Vanilla whipped cream is super easy to make with an electric mixer. I use my KitchenAid Mixer, but you can also use any handheld brand.
For some extra fun and creativity, I use Fred & Friends Food Plates, available on Amazon right below. I love using the Mrs. Fred plate to serve a variety of vegetables!
Fred MR. FOOD FACE Kids' Ceramic Dinner Plate
Fred MRS. FOOD FACE Kids' Ceramic Dinner Plate
To make your very own face plate with the family, see all of the ingredients and steps below!
Ingredients:
• 1 pint heavy whipping cream (I use Organic Valley)
• 1 teaspoon vanilla extract
• 2 tablespoons organic maple syrup
• Organic strawberries
Steps:
1. Start whipping the cream slowly in the mixer, gradually increasing the speed.
2. Once the cream starts to stiffen, mix in vanilla extract and maple syrup for flavor. If you don't have time, you can use a store-bought whipped cream – I like the 365 Whole Foods brand. If you're dairy-free, you can use whipped cream made with almond milk or coconut milk.
3. Cover Mr. or Mrs. Fred's jawline and eyebrows with whipped cream, and the hairline with strawberries.
That's it! So simple! Have fun decorating face plates using healthy (or not so healthy) ingredients – it's a great opportunity to get creative and a little silly with the family!
Cheers to joyful eating,
Clara