For the full video visit our Show Me How channel.
Most pool noodles are made from polyethylene foam, which is difficult to recycle in most places. Instead of throwing those old noodles away, why not use them as material for crafting activity? This is a great way for your little ones to learn letter recognition, sight word formation and phonics. This will also help improve their vocabulary for CVC words (consonant, vowel, consonant three-letter words). You can download and print CVC cards with words for your kids directly from our website.
Materials:
This activity will require the use of a sharp knife, so you definitely will want to do the cutting part for your children. Just one color is fine, but noodles of varying color can make things more fun. You can find them reasonably priced at any large retailer.
● Pool noodles
● Sharp knife
● Cutting board
● Scissors
● Permanent marker (black works best)
● Large box or plastic bin to hold the letters
● Paper towel holder (optional)
● CVC and Sight Words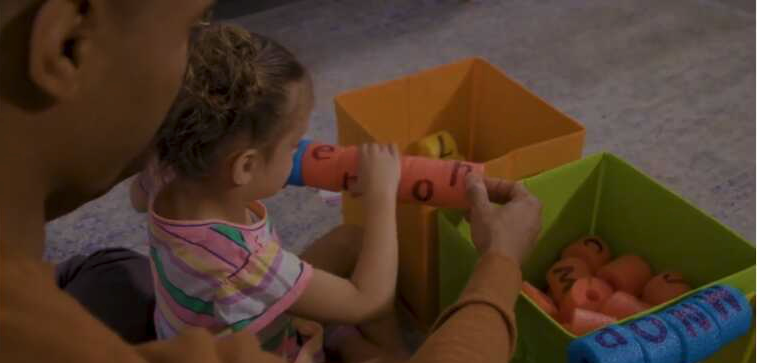 Step 1 – Write
Write your letters (upper or lower case) onto a section of pool noodle, make sure they are spaced far enough apart so that you can cut them easily.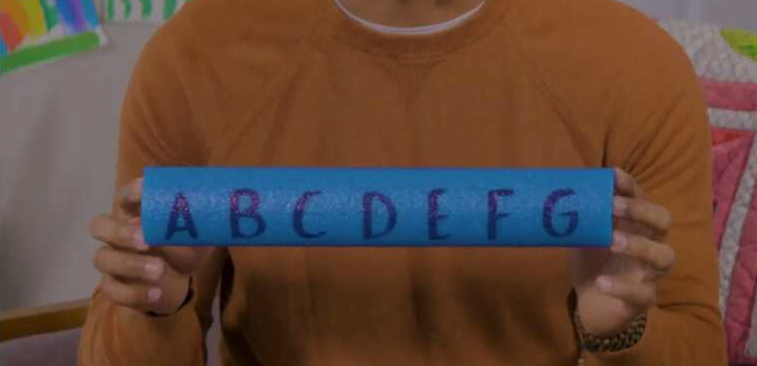 Step 2 – Cut
This step should be done with the adult! Use a knife to cut the pool noodle so that each letter is on its own piece. Also cut a horizontal slit on the backside of each piece so that it can be slid onto the edge of a box or a bin.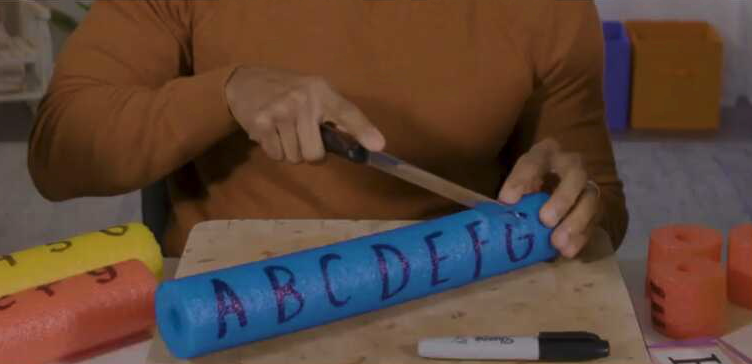 Step 3 – Play
Using the edges of the bin that you keep your noodle letters in are a great way to keep all your items together and makes for easier cleanup. You can also use a clothesline, chair or any cardboard box you have lying around to hold your letters.
Step 4 – Make it a Game
Use a timer to provide more of a challenge for your kids. Ask them to form as many words as they can within a set time.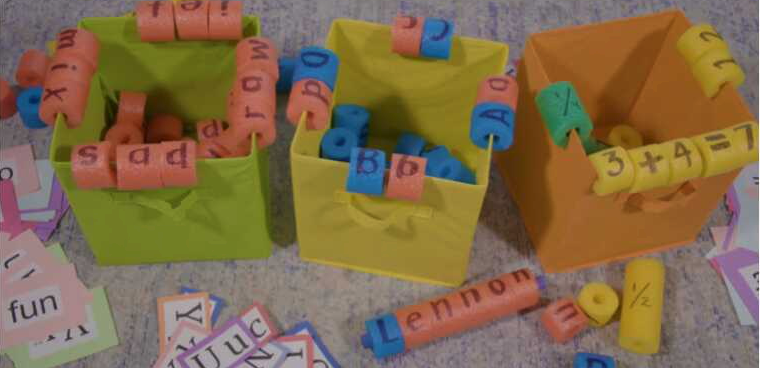 There are a variety of ways you can adapt the pool noodle idea to provide even more fun. Try using numbers instead of letters, or for older children write entire words on each piece and have them practice forming sentences.
Remember, these activities don't need to take a lot of time or energy to assemble. Once you have the pool noodle alphabet, you can use for a fun game to play while you're making dinner, during snack time or as a break from screens. Incorporating early literacy into your kids' day doesn't have to feel like school. It doesn't have to feel like work. It can be as simple as a few minutes of playtime with an added literacy challenge. It's the simple daily activities that reinforce early literacy concepts, and the time spent together bonding that instill a longtime love of learning in kids.
Share With Us!
We hope you have as much fun with this pool noodle activity as we did! We're excited to see how yours turned out, so don't be shy! Post the lovely fruits of you and your child's labor on Facebook, Instagram or Twitter with #mothergooseclub.